Nominations invited for the 2017 Hugh O'Flaherty International Humanitarian Award
03 April, 2017
Honour Your Humanitarian Heroes!
Nominations invited for the 2017 Hugh O'Flaherty International Humanitarian Award
As part of the 10th annual Hugh O'Flaherty Memorial Weekend, which will take place on Saturday November 4th & Sunday November 5th 2017 in Killarney, The Hugh O'Flaherty Memorial Society are inviting the public, NGOs, voluntary bodies and organisations to nominate the person or organisation they feel is doing outstanding humanitarian work and most deserving of the 2017 Hugh O'Flaherty International Humanitarian Award.

Background to the Award:
Monsignor Hugh O'Flaherty, who was from Killarney, was dubbed the Scarlet Pimpernel of the Vatican for his lifesaving exploits during World War II. During the course of the war he was instrumental in saving the lives of more than 6,500 anti-Fascists, Allied escapees, Jews and many others by hiding them from the Gestapo in a number of safe houses, convents etc. throughout Rome. On the day Rome was liberated, June 4th 1944, his organisation was still successfully hiding almost 4000 people, despite the efforts of the Gestapo to recapture them.

The work of Monsignor O'Flaherty follows a long tradition of humanitarian service by Irish people, when he provided refuge and assistance to the oppressed in Rome without any regard for race, colour, creed or political beliefs – applying his own simple yet profound belief that "God Has No Country".
After WW2 Monsignor O'Flaherty received many honors including Commander of the British Empire and the US Medal of Freedom. In November 2008, in recognition of his immense humanitarian deeds the people of his hometown of Killarney posthumously presented the Killarney Humanitarian Award to Monsignor Hugh O'Flaherty. For subsequent years, the Award was renamed in his honour and presented to worthy recipients.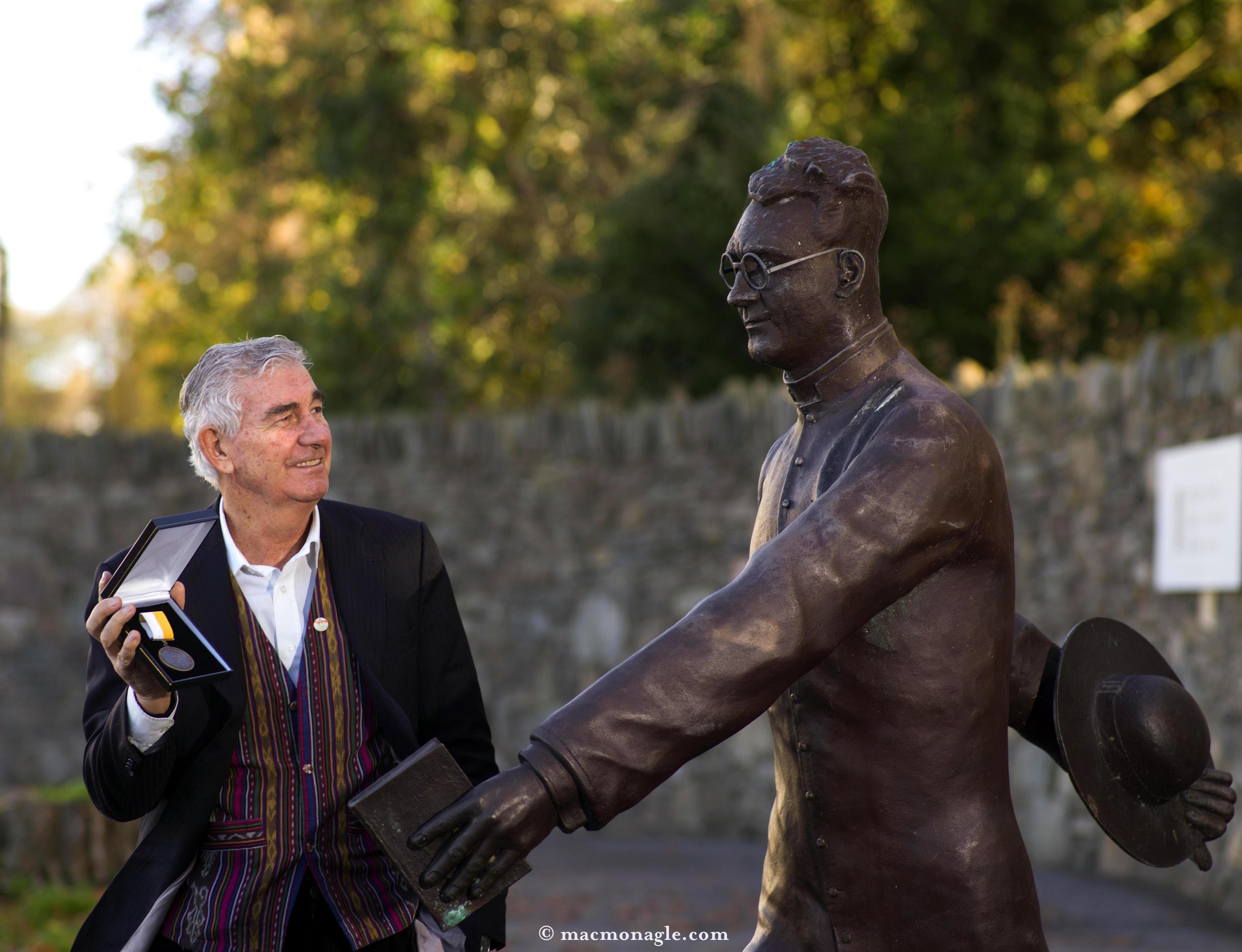 Last year's 2016 Humanitarian Award recipient was Irish Columban Missionary to the Philippines and founder of PREDA, Fr Shay Cullen. Since 1969 he has led a sustained campaign in defence of the oppressed and exploited women and children in the Philippines. Previous award recipients are:
· 2009 Darfur based GOAL aid workers Sharon Commins and Hilda Kawuki.
· 2010 Columban Missionary Fr Michael Synott.
· 2011 Trócaire's Regional Director for Latin America, Sally O'Neill.
· 2012 Sr Agnes Hunt of the Irish Council for Prisoners Overseas.
· 2013 the inspirational young Kerryman Donal Walsh.
· 2014 Dr John Beavis founder of the medical aid charity IDEALS.
· 2015 Fr Sean Myers Redemptorist Missionary to Brazil
In 2013, to mark the 50th Anniversary of the Monsignor's death, a magnificent life-size bronze memorial was unveiled on Mission Road in Killarney. It is the work of Valentia Based artist Alan Ryan Hall.

Nominations for the 2017 Humanitarian Award are invited from:
· Individuals from around the world.
Voluntary Organisations and Humanitarian NGOs operating at home or overseas,

Nominations can be for an Individual, Team or Organisation providing Humanitarian Services for those in need at home or overseas.
Nominations in no more than 500 words should be submitted in writing to the Awards Committee at the below address, or by e-mail to [email protected] before Friday June 16th 2017. The Nomination should clearly outline the reasons why the nominator feels that the nominated Individual/Team/Organisation, merits consideration for this award.
An independent panel will fully consider the nominations received and will recommend a recipient to the Memorial Committee. The 2017 Award recipient will be announced in late August and the Award will be presented on Saturday November 4th 2017 during the 10th Hugh O'Flaherty Memorial Week.
Further Information / Submissions of Nominations:
Jerry O'Grady
Chairman
Hugh O'Flaherty Memorial Society
c/o Killarney Chamber of Commerce
2nd Floor TIO Building
Beech Road
Killarney
Co. Kerry
IRELAND
E-Mail [email protected]
Picture Don MacMonagle Photography
2016 Humanitarian Award Recipient Fr Shay Cullen at the Hugh O'Flaherty Memorial in Killarney.