Main Street USA came to Killarney on 4th July!
08 July, 2013
MAIN ST. USA CAME TO KILLARNEY ON JULY 4th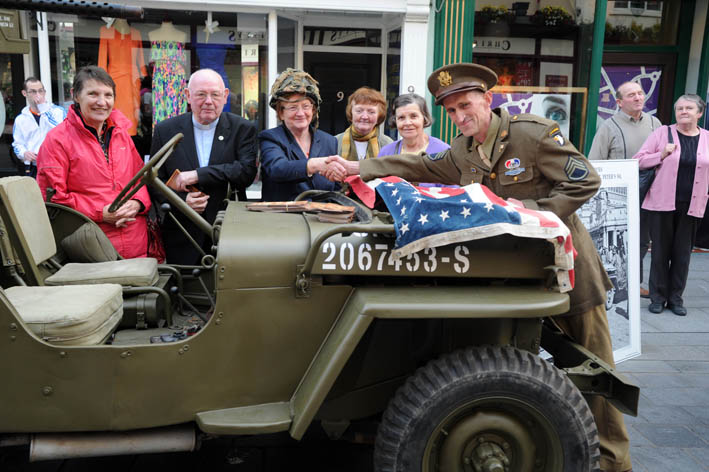 As part of the "2013 Gathering" of friends, patrons and families of Monsignor Hugh O'Flaherty (a.k.a. The Vatican Pimpernel), American Independence Day was celebrated in style on Main Street Killarney on Thursday night when the Irish Army "Band 1 Brigade" under the baton of Conductor Capt. Brian Prendergast, brought the large audience of locals and visitors on a musical journey of Swing, Military and Broadway music from the 40's to the current day.
This July 4th Celebration was also a great musical "Commemoration" of Killarney's favourite hero, Monsignor Hugh O'Flaherty. This is the 50th Anniversary of the Monsignor's death, and his incredible wartime story has numerous links with the United States. Following the June 1944 liberation of Rome by US Forces under General Mark Clark, O'Flaherty safely delivered some 4000 escapees into the care of the liberating army, and subsequently, the US Government awarded him their highest civilian honour, The US Medal of Freedom, for his work in saving so many Allied lives through his wartime Rome Escape Line.
During the first part of the concert, there was a guest appearance by the three Cahersiveen born McCrohan Tenors who would have raised the roof (if Main St. had one), with a rip-roaring medley of Italian favourites and finishing appropriately with that great Brendan Graham classic about emigration, "Isle of Hope - Isle of Tears".
After the interval, three young singing students of Sharon Reidy, i.e, Marie Woulfe, Megan Carney and Roisin Hussey, dressed in the military uniforms made famous by the 40's icons The Andrews Sisters, performed a superb suite of wartime songs, including many made famous by Vera Lynne. The audience did not want their performance to finish.
The organisers, the Hugh O'Flaherty Memorial Society had also organised a static display of a vintage WW2 US Army Jeep, accompanied by fully uniformed and armed US Soldiers of the Italian Campaign era. This proved to be a highly popular "photo op" for many people with hundreds of photos being taken.
Mayor of Killarney Paddy Courtney officially opened the Celebration and after the event said, "
This is the first time that Killarney town has officially celebrated American Independence Day, and it was only right and fitting that their wholehearted celebration of our National Holiday should be reciprocated in this way". "I hope that similar events will become a regular feature for Killarney on future July 4th occasions"
, he added.
Society Chairman Jerry O'Grady, thanked all of the bodies and individuals for making the July 4th Concert such an unqualified success. He also thanked the people of Killarney for getting behind the O'Flaherty Memorial when he said, "
This event is by way of a thank you to all of our patrons, friends and supporters who are making it possible for us to unveil the wonderful bronze memorial to the Monsignor on October 30th as the highlight of the 6th Annual Hugh O'Flaherty Memorial Week which will run from Sunday October 27th to Sunday November 3rd.
"
"Because this Concert is part of the 2013 Gathering, I would also appeal to everyone in the audience who took photos of the event to e-mail copies to us at [email protected] so that we can put them on the "Gathering Website"
, he added.