Irish Rescue Services Honoured
19 November, 2018
At a packed Award Ceremony in Killarney House last evening, members of Kerry Mountain Rescue, Irish Coast Guard and the RNLI, accepted the 2018 Hugh O'Flaherty Humanitarian Award. For the first time in the Award's history, it was presented not to an individual humanitarian but to three life-saving organisations.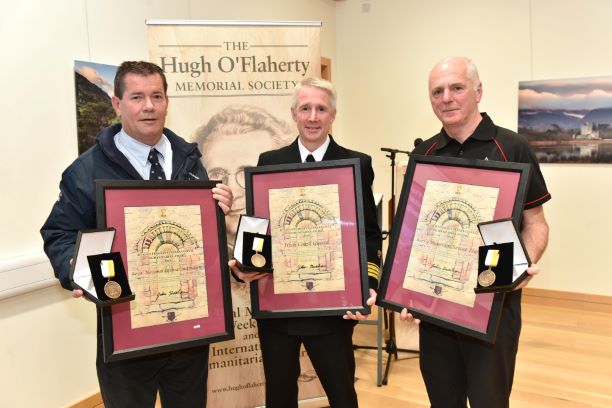 In presenting the Awards, the Mayor of Killarney, Cllr John Sheahan said, "The brave and selfless members of the Irish Rescue Services deserve not only our admiration but our practical support in whatever way we can".
President of Killarney Chamber of Tourism & Commerce, Paul O'Neill said, "For a county like Kerry, blessed with wonderful adventurous landscapes of mountain, lake, river and Atlantic coastline, it is reassuring for visitors and locals alike to know that if they get into difficulty, we have some of the best trained and committed rescue services to be found anywhere in the world"
The Rescue Services were nominated for the 2018 Humanitarian Award by Michael O'Connor, who reminded us of the sacrifices made and risks taken by the many volunteers involved in going to the help of others in distress. He added, "They give up family and leisure time to train and respond to search & rescue calls, and their bravery, selflessness and dedication is exemplary, greatly encouraging the next generation to follow suit".
The Awards were accepted on behalf of the three organisations by Jimmy Laide (Kerry Mountain Rescue), John Draper (Irish Coast Guard) and Richard Quigley (RNLI). In accepting the Awards all three recipients agreed in saying "There is no greater satisfaction than when we successfully rescue and return someone in distress, to the loving arms of their loved ones". They asked us to remember their colleagues who gave their lives over the past years, while saving lives numbering in the hundreds of thousands.
Schools Bursary donations were presented by students Ciara O'Sullivan (Mercy Holy Cross), Brian Kelleher (Killarney Community College) and Gearoid Sugrue (The Mon NS) to the Kerry Mountain Rescue, R.N.L.I. and Killarney Water Rescue.