2018 Schools Essay and Poetry Competition
19 November, 2018
At a special ceremony in Killarney Library this morning, Prizes were presented to the winning entrants in the 2018 Hugh O'Flaherty Schools Literary Competition, under a number of categories.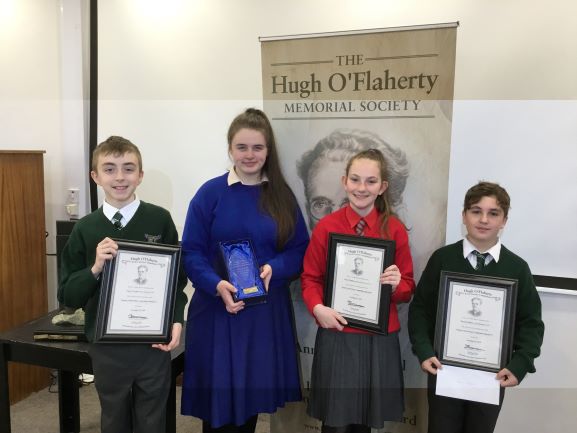 Winning 2nd Level Schools Poetry (Poem Attached):
· Laura Looney, Transition Year, St Brigid's Killarney.
Winning Primary Schools 5th/6th Class Essay – Shared between:
· Ciara O'Sullivan, 6th Class Holy Cross Mercy, Killarney
· Brayden Slattery, 6th Class The Monastery, Killarney
· Conor O'Grady, 6th Class The Monastery, Killarney
Winning Best Primary Schools Collective Entries:
· 6th Class The Monastery, Killarney.
Once again, this year the Adjudicators were most impressed by the quality of thought, research, argument and proposals made throughout the various entries. In their summing up, they said:
"The pupils addressed the 'HERO' aspect with diverse tribute in their essays, presented for this competition. The varying approaches and responses are truly heart-warming from these young pupils. Their personalities focused on their interpretation of such a tribute to their local hero".
"In this, individualism was most apparent. Some drew a very strong comparison of worldwide in-action today in areas of war, famine, homelessness, inequality, refugees etc. Where is our 2018 Monsignor Hugh? Most entrants displayed a wish that Monsignor Hugh's legacy of humanity, courage, care, intelligence, energy, selflessness and enormous forgiveness will forever inspire more heroes to follow with a stride on a road of Heroic Mission".
"Congratulations to you all and most especially to your teachers who saw the value in participating in this exercise with pride and congratulate you all on the quality and style of the writing contained in your entries".
The Prizes were presented by Paul Sherry, Vice President Killarney Chamber of Tourism & Commerce, who said, "Killarney Chamber is delighted to support and be associated with this event and with its aims through each year's body of young students, to sustain the humanitarian message of Monsignor Hugh O'Flaherty for the future generations".