Mayor Culloty praises the interest & creativity of the young generation
14 November, 2014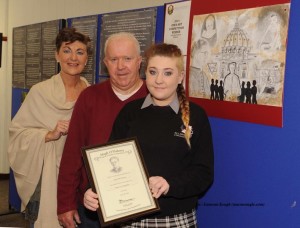 At a well-attended prize giving ceremony for the winners in the Hugh O'Flaherty Literary & Art Competitions 2014 held in Killarney Library on Monday November 10th, Cllr John Joe Culloty, Mayor of the Killarney Municipal Area praised all of the winning entries and in particular those submitted by the younger generation. Four of the five Awards went to entrants under the age of 16.
The
Open Poetry Competition
was won by Dingle based poet,
Maria Ni Mhurchu
with her poem titled "God Has No Country".
The
Open Art competition
was won by local Killarney Community College student
Katie Mai Moloney
who created a wonderful montage telling the story of the Monsignor's humanitarian work in WW2 occupied Rome.
We returned to Dingle for the winning entry in the
Secondary School Essay competition
which was won by
Aoife Nic Bhloscaidh
with a fine essay titled "An Irish Hero".
The
Primary School Essay
winning entry came from
Aaron Broderick
of Boheshill National School in Glencar. A special Merit Award was presented to the Boheshill National School because the quality of all their school entries showed so much creativity, quality and all-round effort. Chairman of the Memorial Society Jerry O'Grady echoed Mayor Culloty's praise for the level of interest being shown by the younger generation.
The Hugh O'Flaherty Commemorations continue this Friday November 14th at 7.00p.m in the Killarney Plaza Hotel with the screening of the Holocaust documentary "Close to Evil" followed by a question & answer session with the film maker Gerry Gregg.
The centrepiece of the Commemorations takes place the following night Saturday Nov 15th at 8.00.p.m at the Killarney Plaza when the 2014 Humanitarian Award will be presented to British Surgeon Dr John Beavis and the Keynote address will be made by Holocaust survivor Tomi Reichental.