2014 Hugh O'Flaherty International Humanitarian Award presented to Dr. John Beavis
15 November, 2014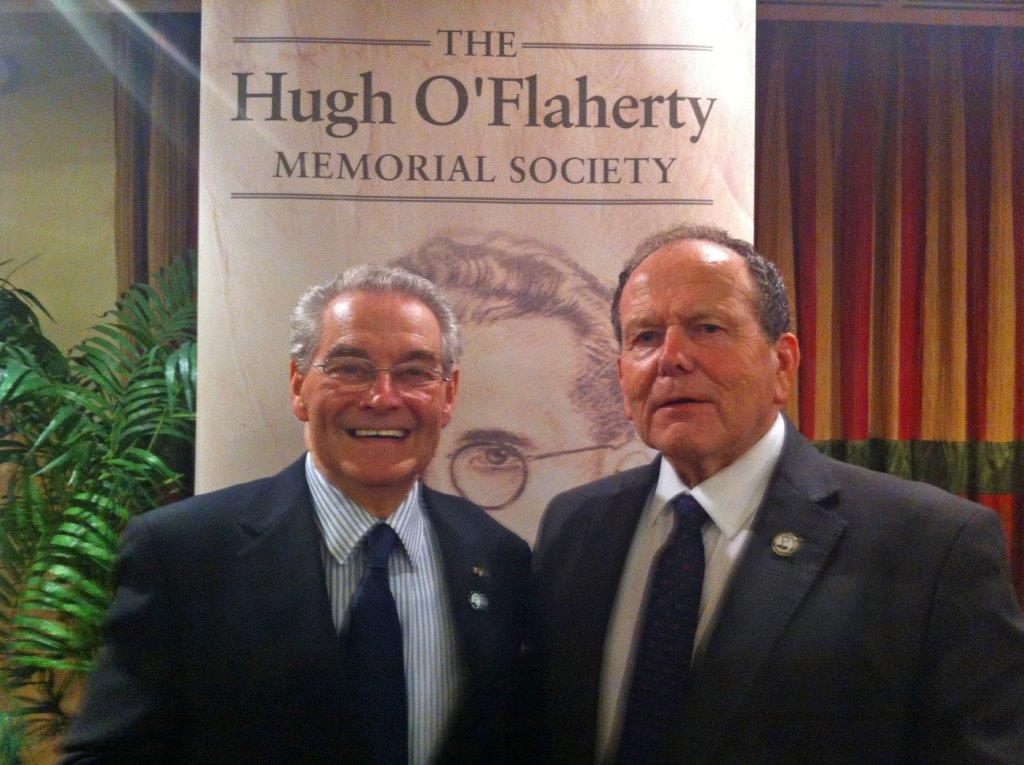 One of the highlights of the Monsignor Hugh O'Flaherty Memorial Week took place on Saturday 15th November at the Killarney Plaza Hotel, Killarney when the
2014 Annual Hugh O'Flaherty International Humanitarian Award
was presented to international humanitarian
Dr John Beavis
, who has over 21 years devoted his life to humanitarian aid in parts of the world afflicted by disaster, either natural or from conflict through his work with the organisation he founded
IDEALS
.
Earlier this year the Hugh O'Flaherty Memorial Society issued a public invite to nominate people or organisations, who they felt had displayed the same ideals and principles of the Monsignor and would be deserving of this Award. A shortlist of 7 Nominees was considered by the independent Award Panel, at which it was agreed that Dr Beavis would receive the award for 2014. Dr Beavis was nominated by Jerome Curran of Wadhurst, East Sussex in England.
Speaking at the award ceremony Mr Curran stated "
When I read about the award and the list of characteristics required, John ticked every box. His humanitarian work has taken him from war torn Bosnia to post tsunami Sri Lanka, northern Pakistan and now Gaza. His courage and his belief that all people in need should be helped is a shining example of what the Monsignor stood for
."
Key note speaker on the night was holocaust survivor,
Tomi Reichental
who was introduced by a great friend of his,
Minister Jimmy Deenihan, TD
. Tomi who has lived in Ireland since 1959, was just nine years old when he was sent to Belsen with his family by the SS; most of whom did not survive.
Tomi now devotes his time to reconciliation and awareness which was depicted in the recent RTE documentary "Close to Evil" where he reaches out to one of his former captors when he discovers she is alive and living in Hamburg. Tomi stated "
I would like to commend the Award Panel. John is a true successor to Monsignor Hugh O'Flaherty and I am honoured and privileged to be here tonight to participate.
"
Presenting the Award to Dr Beavis was Deputy Mayor of Killarney Niall Kelliher who stated "
Dr Beavis is another truly great humanitarian, using his time and skills to help people in areas of conflict around the world; helping people in great need without any regard for creed, colour or origin
."
As well as the Award, a special commemorative medal was presented to Dr Beavis by Cannon Pat Horgan, Member of the Hugh O'Flaherty Society and Killarney Chamber of Tourism & Commerce President, Johnny McGuire presented him with a personalised bound copy of "The Vatican Pimpernel" by Brian Fleming.
Speaking on receipt of the award Dr Beavis stated "
I am a very reluctant recipient, as I am convinced that I have done nothing out of the ordinary. It is very humbling for me to be here tonight and I am accepting this amazing honour on behalf of all of my colleagues and the many great people I have come to know through the IDEALS organisation. We all have a responsibility to do our best to reduce the chance of what happened in WW2 from happening again.

I have seen first hand how war corrupts; how it makes people hate each other, when they existed together so well in the past. But I have also seen many people in dire situations doing the right thing, risking their lives to help one another despite the utter brutality that is going around them. The Monsignor would very much approve of them.
Dr Beavis added "
As I return to Gaza I am going to take with me the experience of the Monsignor, the other recipients of this great award and my new great friend Tomi Reichental. We are as one and we all must do what we can to bring people together.
"
After a standing ovation for Dr Beavis, MC for the night and Chairman of the Hugh O'Flaherty Memorial Society Jerry O'Grady finished the proceedings by thanking all of the individuals and organisations that work so hard behind the scenes, putting the weekend together, including Kerry County Council, Killarney Library and the team at the Killarney Plaza Hotel. "
This is the 7th year of the Memorial Weekend and the 6th year of the Award, as the very first year Killarney honoured the Monsignor posthumously with the Humanitarian Award, which since then has been awarded in his memory. Awareness for the amazing work of the Monsignor and his colleagues in the Rome Escape Line, continues to grow and grow through the increasing number of books and articles written and documentaries made on the subject. A year on from the unveiling of his likeness in the town centre, we now can see first hand the impact the Monsignor's memorial has had, with visitors coming from far and wide to pay their respects and learn more about this great Kerryman. Through the Annual Hugh O'Flaherty Memorial celebrations we will ensure the continuous promotion of the Monsignor's inspirational story through various art forms i.e., Drama, Literature, Film and Art, etc. and of course through the annual awarding of the annual Hugh O'Flaherty International Humanitarian Award.
"