2015 Hugh O'Flaherty Humanitarian Award is presented to Fr. Sean Myers
09 November, 2015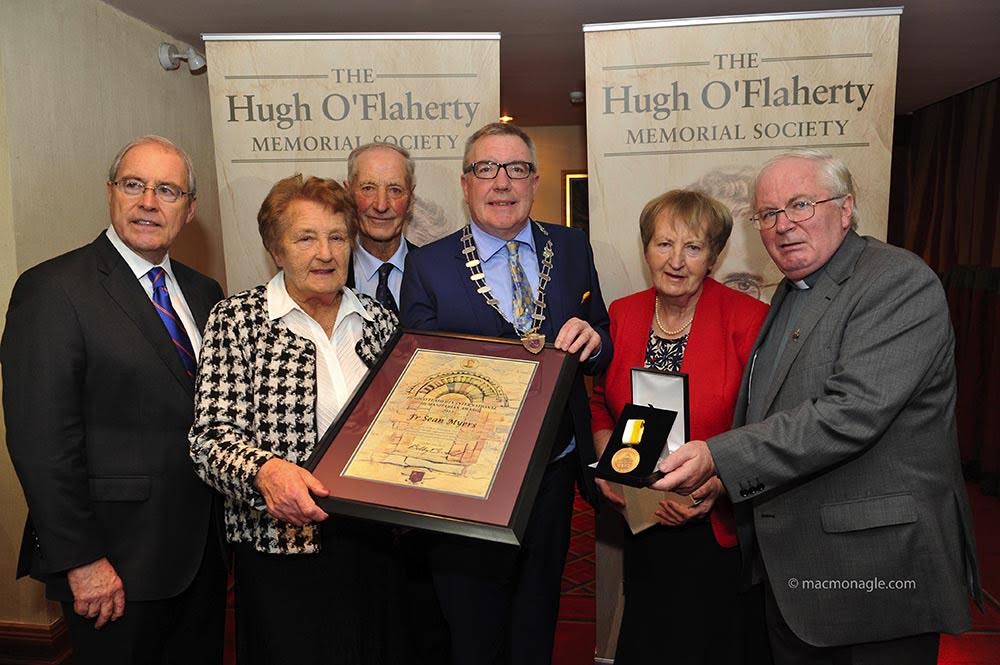 The main event of the Monsignor Hugh O'Flaherty Memorial Week took place on Saturday 31st October at the Killarney Plaza Hotel, Killarney when the 2015 Annual Hugh O'Flaherty International Humanitarian Award was presented to
Killarney born Redemptorist Missionary to northeast Brazil, Fr Sean Myers
. Since 1960, Fr Myers has been working tirelessly for the past 55 years in a very remote and poor parish half the size of Ireland.
Earlier this year the Hugh O'Flaherty Memorial Society issued a public invite to nominate people or organisations, who they felt had displayed the same ideals and principles of the Monsignor and would be deserving of this Award. A shortlist of 10 Nominees was considered by the independent Award Panel, at which it was agreed that Fr Myers would receive the award for 2015. Fr Sean was nominated by the Fossa Community on the outskirts of Killarney, where Fr Sean was born some 85 years ago.
Before a full audience in the McShain Suite, the Ceremony began with the screening of the 1977 Radharc TV documentary on Fr Sean's work, titled "
Padre Joao is a Kerryman
". The documentary followed Fr Sean through the wild and remote areas of northeast Brazil as he served both the spiritual and practical needs of his oppressed and dispossessed parishioners.
He was described in the film as being apart from the mainstream church organisation, tending to the needs of the community in a very paternalistic manner, as he believed Christ would have wished. Somewhat like Hugh O'Flaherty, he saw himself as being somewhat out on a limb, but was happy to stay there if that meant he could more effectively help those in dire need of assistance.
Fr Sean was unable to travel back to Ireland for the ceremony but he conveyed a brief message of appreciation through his niece
Mary Vousden
, saying there were many more deserving recipients, but accepting the recognition on behalf of all of his fellow missionaries.
Key note speaker on the night was the
USA Ambassador to Ireland, Kevin O'Malley
. In a wide-ranging address, he recalled the 1945 origins of the highest civilian award presented by the US Government, "The United States Medal Of Freedom", which was presented to Monsignor Hugh O'Flaherty in 1946 in recognition of his immense contribution to peace and reconciliation during and immediately after WW2 in Rome. Ambassador O'Malley referred to so many similarities between Fr Myers and Monsignor O'Flaherty.
Provincial of the Redemptorist Order in Ireland, Fr Dan Baragry delivered a very personal and at times humorous account of Fr Sean's early years in the Redemptorists, and his ongoing inspirational work in Brazil. He is, he said, a wonderful role model for all young missionaries and humanitarian volunteers, and richly deserving of the recognition he has now received.
The Award, consisting of a Framed Scroll from the people of Killarney, the International Humanitarian Medal and a special Muckross bound dedicated copy of Brian Fleming's 2008 book on Monsignor O'Flaherty, "The Vatican Pimpernel", was presented by Mayor of Killarney Municipal District, Cllr Bobby O'Connell and was accepted on Fr Sean's behalf by his siblings Daniel Myers, Teresa Cunningham and Noreen Hayes.
Photo courtesy of
McMonagle Photography
Pictured left to right are
: USA Ambassador Kevin O'Malley, Noreen Hayes, Dan Myers, Mayor Bobby O'Connell, Teresa Cunningham and Fr Dan Baragry.