Sr. Orla Treacy accounced as recipient of Humanitarian Award
04 September, 2017
Sr. Orla Treacy is announced as the recipient of the Hugh O'Flaherty International Humanitarian Award for 2017
The 2017 Hugh O'Flaherty International Humanitarian Award will be awarded to Sr Orla Treacy, a Loreto Sister in South Sudan. Sr Orla, from Bray, Co. Wicklow.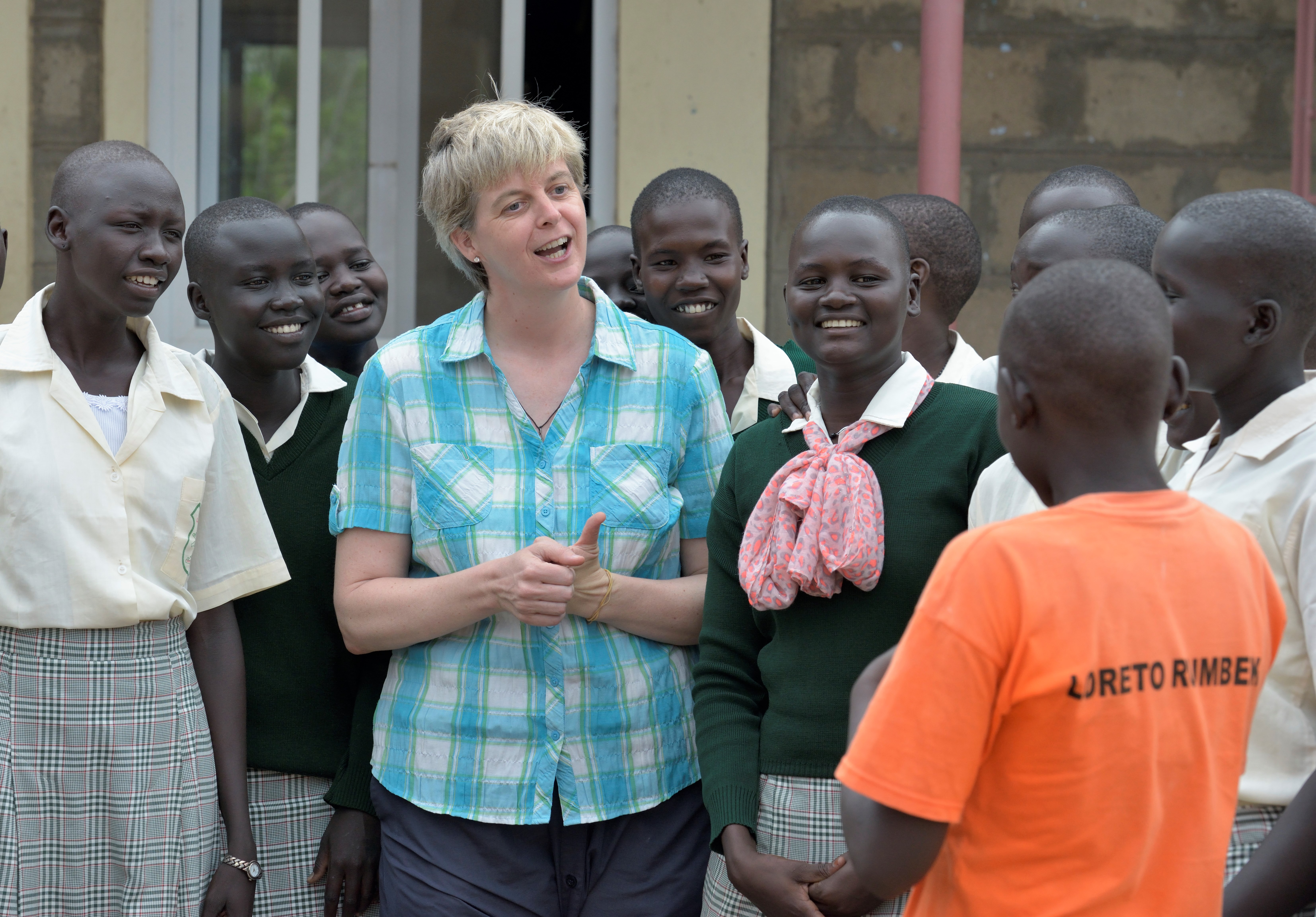 The award will be presented by Cllr Niall Kelleher, Mayor of Killarney Municipal Authority on Saturday evening November 4th at an Award Ceremony in the Killarney Avenue Hotel.
This year marks the tenth year of the Memorial Commemoration of the Monsignor.
Over the past few months nominations have been invited for people or organisations, which have displayed the same humanitarian ideals and principals as the Monsignor and would be deserving of this Award. A shortlist of 5 Nominees was considered by an independent Award Panel, at which it was agreed that Sr Orla would receive the Award for 2017. Sr Orla was nominated by Martin Rosney from Bray, Co. Wicklow.
Born in 1973, when she was two years old, her family moved to Tralee where her father Blaise Treacy took up the position of Kerry County Secretary.

She was educated initially at Presentation Convent Tralee until at the age of 6 when her family moved to Bray, Co. Wicklow, where she attended Loreto in Bray, completing her Leaving Cert in 1991. Having studied at the Mater Dei Institute she subsequently taught in Presentation College Cork, Loreto Letterkenny, St Muredach's Ballina and Loreto Crumlin.

Having spent a summer in India with the Loreto Sisters, at the age of 24 she decided to join the Order. Based at the Loreto Convent in Rathfarnham, she was Professed as a Loreto Nun in September 2005, but within a year, she headed to the large African state of Sudan with four other Loreto nuns to establish a Mission in a diocese the size of Italy with just two secondary schools.

She has spent the last 11 years in Sudan, experiencing the trauma of South Sudan becoming an autonomous independent state in 2011 followed by Civil war in 2013. Today, South Sudan is widely considered one of the most fragile states in the world with continuing conflict and unrest. Sr Orla is now the Principal of Loreto Secondary School in Rumbekin Lakes State, in South Sudan where they have over 500 boys and girls.
Chairperson of the Hugh O'Flaherty Memorial Committee Jerry O'Grady said "Sr Orla possesses and displays the bravery and humanitarian commitment we have come to associate with the recipients of this Award. At a young age and with a bright future ahead of her in Ireland, she decided instead to dedicate her life to those in need in what was already then a virtual war zone"
When told that she had been selected for the Hugh O'Flaherty Humanitarian Award, Sr Orla said, "The work of Msgr. Hugh O'Flaherty has inspired so many in their fight against injustice for the protection of vulnerable populations. I am genuinely very humbled to receive this award. On behalf of Loreto Sisters and all our staff at Loreto Rumbek South Sudan I graciously accept this honour. The girls and young people we work with in South Sudan fill us with hope for a better future for this country".
Admission to the Humanitarian Award Ceremony in the Killarney Avenue Hotel on Saturday evening November 4th is open to all.

PHOTO: Sr Orla Treacy with students at her school in Rumbek, South Sudan:
Courtesy of Paul Jeffrey/Loreto Sisters