Leo's War - Great new book on Monsignor Hugh for the younger reader
03 September, 2018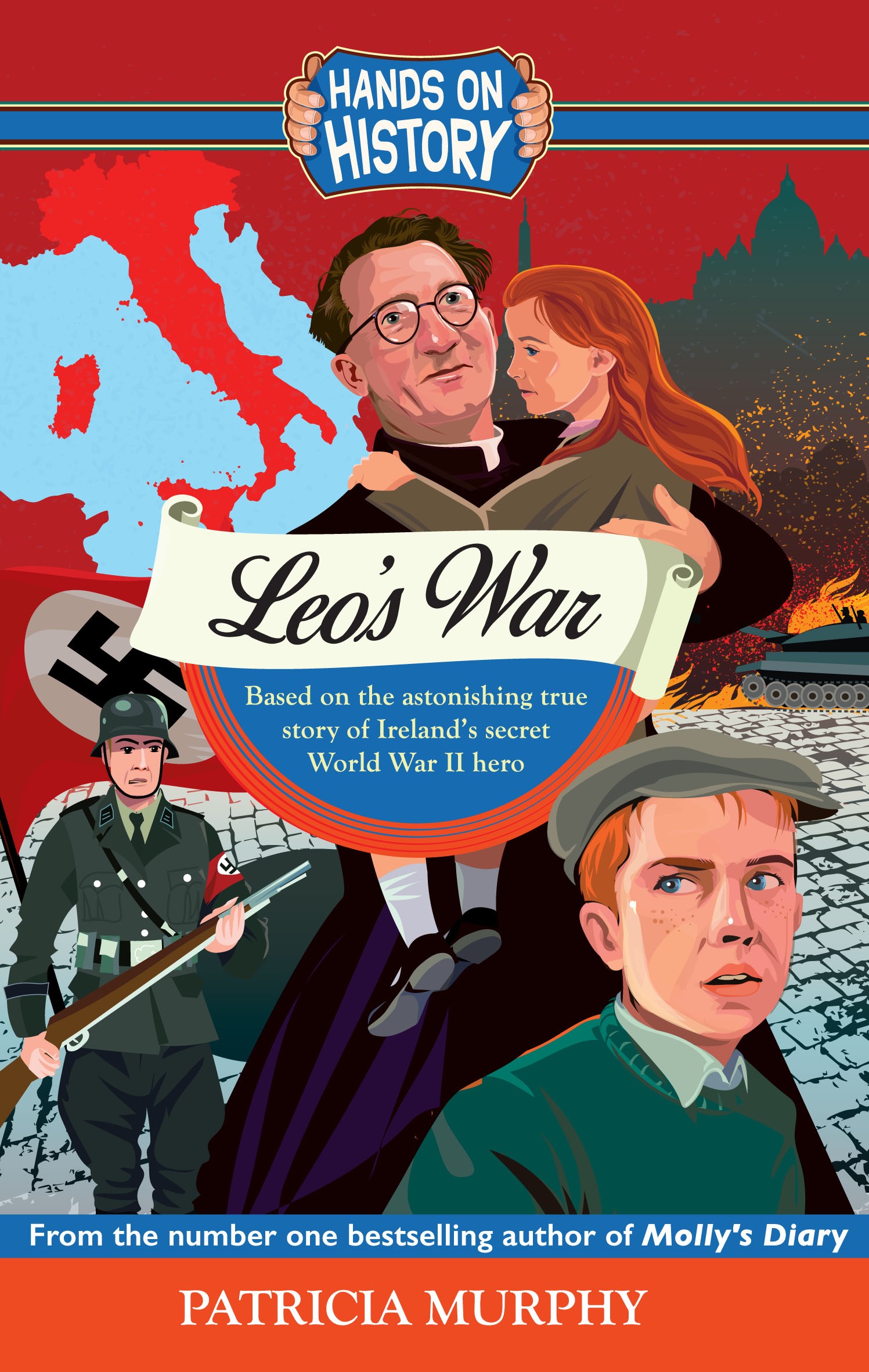 Poolbeg Press is delighted to announce the publication of Leo's War by bestselling author Patricia Murphy, based on the real-life exploits of the courageous Irish priest known as "The Vatican Pimpernel", in World War 2.
Leo's War is based on the astonishing true story of Monsignor Hugh O'Flaherty, the Irish Oscar Schindler who saved over 6,500 lives during the German occupation in Rome during the Second World War.
Told through the eyes of a twelve-year-old boy it is a dramatic rollercoaster of extraordinary human courage against the darkest evil by the bestselling author of Molly's Diary.
"Monsignor Hugh O'Flaherty is one of Ireland's greatest humanitarians, honoured by The United States, Britain, Israel and Italy after the war, yet he is hardly a household name," said publisher Paula Campbell. "Poolbeg is thrilled to bring his story to a new generation of children. And it's a nail- biting page turner full of dramatic events that will have readers enthralled."
Synopsis
It's 1943 and young Leo tries to protect his disabled sister Ruby as the Nazis invade Italy. After his mother is arrested, he turns to Monsignor Hugh O'Flaherty to save them. But he is no ordinary priest. Known as 'The Pimpernel of the Vatican', the Monsignor is the legendary organizer of the Rome Escape Line.

Soon Leo is helping out with this secret network dedicated to saving the lives of escaped prisoners of war, partisans and Jews. But as the sinister Nazi leader Kappler closes in on the network, can Leo and his sister stay out of his evil clutches?
"The more I learned about Monsignor Hugh O'Flaherty, the more I admired him," said author Patricia Murphy. "He is a role model for our time – courageous, ingenious and ecumenical. Time after time he put his own life in the line for British, American and Russian prisoners of war, Italian partisans and persecuted Jews. His compassion reached across borders and divisions. I am not an expert in these matters but as he visits our shores, it would be great if the pope could pay tribute to this remarkable Irishman in some way."
Praise for Patricia Murphy's previous works:
Murphy, an award-winning documentarian and children's author, nails this character's voice and, importantly, doesn't patronise the intelligence of her youthful target readership (9-12 years). Sunday Independent
In this well-researched narrative, Murphy raises contemporary questions such as violence.
Young readers will be enthralled by the exhilarating adventure story while gaining a great understanding of complexities of Ireland in the 1920s. In Touch Magazine April 2016
An invaluable insight into what it is like to be caught up in violent political upheaval – as relevant today as ever. Historical Society
An excellent book for parent and child to read together before bed. Children's Books Ireland.
Poolbeg are offering a very exciting way to enjoy history. Books tell the story in such a way that the details stick.

Evening Echo
"Brilliantly imagined and gripping story from the heart of the 1916 Rising, based on meticulous research. "
Joe Duffy, Broadcaster and Author: Children of the Rising.
"Molly's Diary is a fascinating story with a compelling young girl at its heart . . . a beautifully written and an accessible read for all ages."
Nora Twomey, Cartoon Saloon, award winning director of The Breadwinner.
About the author:
Patricia Murphy is the bestselling author of The Easter Rising 1916 – Molly's Diary and Dan's Diary – the War of Independence 1920-22 published by Poolbeg.
She has also written the prize-winning "The Chingles" trilogy of children's Celtic fantasy novels. Patricia is also an award-winning Producer/Director of documentaries including Children of Helen House, the BBC series on a children's hospice and Born to Be Different Channel 4's flagship series following children born with disabilities. Many of her ground-breaking programmes are about children's rights and topics such as growing up in care, crime and the criminal justice system. She has also made a number of history programmes including Worst Jobs in History with Tony Robinson for Channel 4 and has produced and directed films for the Open University.
Patricia grew up in Dublin and is a graduate in English and History from Trinity College Dublin and of Journalism at Dublin City University. She now lives in Oxford with her husband and young daughter.