Retrace Hugh O'Flaherty's WW2 Rome Steps
28 March, 2012
The H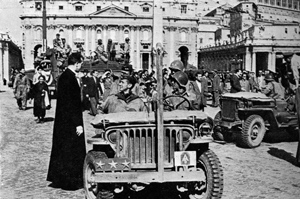 ugh O'Flaherty Memorial Society announces details of an exciting autumn trip to Rome to celebrate the WW2 humanitarian works of Monsignor Hugh O'Flaherty, "The Vatican Pimpernel".
This trip from October 8th to 12th is open to all those interested in celebrating the life of this great Irishman and learning more about his work in WW2 Rome.
An interesting itinerary has ben put together, (contact us for more details) retracing the footsteps of the Monsignor, taking in the Vatican, The Irish & German Colleges, the Ardeatine Caves and other places associated with his life, as well as important events of wartime Rome.
The itinerary will also include all of the major sites in Rome e.g., The catacombs, Major Basilicas, Roman Forum, Colosseum, Trevi Fountain, Spanish Steps etc. Time will also be available for shopping etc.
Memorial Society Chairperson Cllr. Hugh Courtney said, "This is an exciting opportunity to follow in the footsteps of one of our great humanitarian heroes, not just relevant the WW2 period but to every part of today's troubled world".
Celebrated in feature films and best selling books and honoured by many nations for his work in coming to the aid of the oppressed, the Monsignor lived up to the simple yet profound principle of "God Has No Country".
We will be accompanied on this inspiring journey by members of the O'Flaherty family and others with an in-depth knowledge of the person behind the name.
The 5 day trip (4 nights in Rome), will cost in the region of €685 per person sharing, including return flights with Aer Lingus from Cork, 4 nights accommodation & breakfast in a 3* Hotel in the centre of Rome, full-time Tour leader, coaching for all tours & excursions, guided tours of all places visited and all taxes, (government & local).
Single room supplements of €30 per night will apply and Travel Insurance is not included but can be arranged if necessary.
Places will be limited so anyone interested in joining or learning more about this historic trip should request, complete & return the ROME TRIP BOOKING FORM Pdf, with a non-refundable €250 deposit before Friday April 21st 2012.
For details of trip please contact us by email [email protected]