Memorial for Lt. Col. Sam Derry
29 April, 2013
The highly successul Rome Escape Line was started by Monsignor Hugh O'Flaherty but jointly operated by him and escaped POW,
Lt Col Sam Derry
from Newark in Nottinghamshire.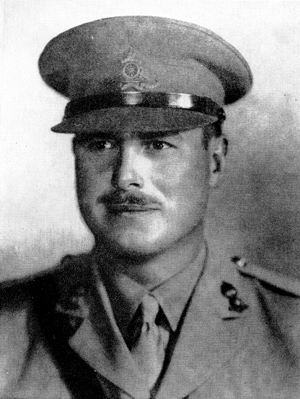 Ever since the Hugh O'Flaherty Memorial Society began back in 2008 with the primary objective of erecting a Memorial to him in Killarney, we have been supported in many ways by the families of two of his most valued allies at the time,
Lt Col Sam Derry
and
Henrietta Chevalier
.
Both families have been with us in Killarney on a number of occasions and accompanied us on our October trip to Rome to retrace the Monsignor's footsteps. As you know, our dream of erecting an O'Flaherty Memorial will be realised this October 30th, when we will unveil the Alan Ryan Hall bronze sculpture at the junction of Beech Road and Mission Road.
Encouraged by our success, the friends and family of the late Lt Col Sam Derry are now embarking on a campaign to
erect a memorial to him in his hometown of Newark, Nottinghamshire
.
The local Newark Advertiser is running a poll to gauge the level of local, national and indeed international support for the idea.
People simply need to log on and
vote YES
for the proposal and add any supporting comments they wish.
Monsignor Hugh and Lt Col Sam Derry mutually acknowledged that without the help of the other, their efforts to help almost
5000 escaped POWs and 1500 civilians
avoid re-capture by the Gestapo, would have failed.
The Monsignor considered Sam Derry to be a very dear friend. For these reasons, we are asking people who admire the work of Monsignor Hugh O'Flaherty to log on to the link below and register their support for the
Sam Derry Memorial
proposal.
It is most fitting that both men should be remembered in this way.
Click here for a link to the campaign