Double Plaque Unveiling successfully concludes the 6th Hugh O'Flaherty Memorial week
19 November, 2013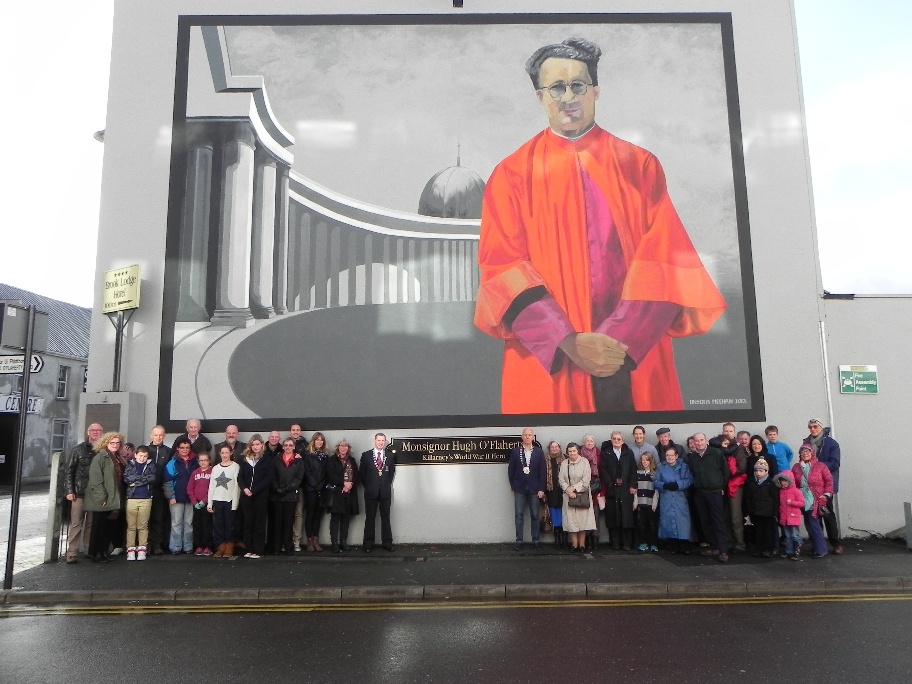 The unveiling of two commemorative plaques on Saturday November 2nd brought the curtain down on the Official Ceremonies of the 6th Hugh O'Flaherty Memorial Week.
At the outset of the O'Flaherty Trail Coach Tour on Saturday morning, the group stopped at the O'Flaherty Mural at the top of High Street in Killarney where Mayor Paddy Courtney and Chamber President Johnny McGuire jointly unveiled a Commemorative Plaque beside the Mural.

In their brief addresses, both referred to the co-operative teamwork that enables Killarney Town Council and Killarney Chamber of Tourism & Commerce achieve so much in Killarney. Johnny McGuire specifically thanked Liam O'Brien and Denis Counihan for facilitating the painting of the Mural and Killarney Town Council for the associated civil works. The Mural was completed as part of the "Tidy Towns Paint your Town" initiative and the design work was done by Declan Mulvaney of KillarneyArt.com.

The artist Ursula Meehan was present at the unveiling.
Later in the afternoon in Cahersiveen, a commemorative plaque was unveiled at Christy Sheehan's shop on Main St where the Monsignor spent the last 3 years of his life with his sister Brid and her husband Christy and, where he died on October 30th 1963. The Memorial Committee asked Kieran Troy of Cultural Connections to unveil the plaque. Kieran was responsible for organising the 2012 Re-Tracing O'Flaherty's Rome Footsteps Tour.