Tour to Rome and Montecassino
21 January, 2014
Depart with Aer Lingus Dublin 3.45.p.m. Sunday Nov 2nd and Return to Dublin 11.p.m. Thursday Nov 6th

(A coach will be organised by the Society from/to Killarney at a separate cost)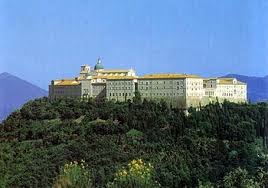 After an incredibly successful O'Flaherty WW2 Rome tour in October 2012, the Hugh O'Flaherty Memorial Society has asked tour organisers
Cultural Connections
to arrange a repeat tour in November this year, but featuring some new places of interest, including the historic mountain top
Benedictine Monastery of Montecassino
.
The programme for the trip will include some of the places visited by the group in 2012. We will visit the interior of
St Peter's
and the
tombs of the Popes
. We will stand on the steps at the
Arco delle Campane
where the Monsignor stationed himself daily in order to meet refugees from the Nazis. We will visit the scene of the
Ardeatine Massacre
in which friends and associates of O'Flaherty were executed. The group will see the house where the Chevalier family heroically hid dozens of Allied soldiers at great risk to themselves.
But we also intend to cover new ground. We will have a walk in the
Ghetto
where the Nazis rounded up the Jews in October 1943. We intend to visit the interior of the
German College
where the Monsignor lived for many years and which also became the home of Major Sam Derry during the German occupation.
There will be a visit to the little parish "adopted" by the Monsignor after the war. Here O'Flaherty dedicated much of his free time for twelve years to feeding the hungry, rebuilding their church, baptizing the community and celebrating Mass on Sundays. We will visit
Rome's Golf Club
where the Monsignor made many of the friendships with the aristocracy that allowed him to build the escape network during the war.
There will be time to visit
Via Rasella
and see the bullet holes that still remain there from the March 1943 bombing that led directly to the Ardeatine Massacre.
We will also take a trip out of Rome to the great
Abbey of Montecassino
, the scene of the worst battle in Italy of the Second World War. This excursion will include a visit to the beautiful
Cassino War cemetery
that stands as a tribute to those who died for the liberation of Italy. Finally, we will attend a
Papal Audience
in St Peter's Square with Pope Francis.
We expect the proposed trip to the Eternal City to be as meaningful and enjoyable as the 2012 visit. The itinerary will be significantly different and the accommodation will be in a fascinating part of Rome, close to
St Mary Major Basilica
.
Click here for the detailed itinerary
.
The cost of the trip is
€735 per person sharing
(single supplement will apply for accommodation).
NUMBERS ARE LIMITED ON THIS TRIP AND EARLY BOOKING IS ESSENTIAL TO GUARANTEE YOUR PLACE
HOW TO BOOK:
1. Request a booking form from
[email protected]
or request one from
Laura/Kieran
at 057 9355050 (mornings only). Alternatively you can email us on
[email protected]
2. Return your booking form to Cultural Connections Ltd, Rahan, Tullamore, Co. Offaly with a
deposit of 250 euro
made out to Tom Mannion Travel.