Dr. John Beavis announced as 2014 Hugh O'Flaherty International Humanitarian Award Recipient
18 September, 2014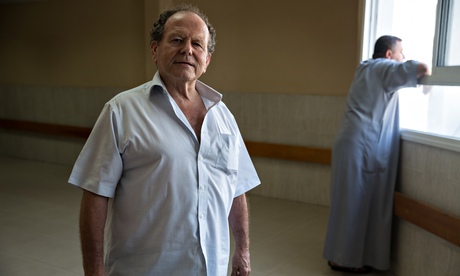 It was announced that the 2014 Hugh O'Flaherty International Humanitarian Award will be awarded to Dr John Beavis, Founder and Chairman of IDEALS. The Award will be presented to Dr Beavis by the Mayor of Killarney Municipal Authority with a keynote address by Tomi Reichental (Holocaust Survivor) on Saturday November 15th at an Award Ceremony in the Killarney Plaza Hotel.
This year marks the seventh year of the Memorial to the Monsignor, organised to raise awareness of the Humanitarian work carried out by the Monsignor, when during WW2, together with his colleagues in the Rome Escape Line, he saved over 6,500 people from the clutches of the Nazis who had occupied Rome at the time. Last year on the 50th anniversary of the Monsignor's death a permanent memorial to the Monsignor was unveiled in Killarney town centre. The memorial is a life-size sculpture of the Monsignor by Valentia based artist Alan Ryan Hall.
Over the past few months Irish NGO's and the general public have been invited to nominate people or organisations, who they felt had displayed the same ideals and principals of the Monsignor and would be deserving of this Award. A shortlist of 7 Nominees was considered by the independent Award Panel, at which it was agreed that Dr Beavis would receive the award for 2014. Dr Beavis was nominated by Jerome Curran of Wadhurst, East Sussex in England.
In his submission Jerome stated "Coronary bypass surgery would probably persuade many ordinary people to put aside the tools of their trade and opt for a quiet retirement. John Beavis ("JB"), retired orthopaedic and trauma surgeon, is no ordinary person and in 1993 his response was to go to the aid of the wounded in the war in Bosnia to put his medical skills at their service in Sarajevo hospital.
For 21 years he has devoted his life to humanitarian aid in many parts of the world afflicted by disaster, either natural or from conflict. His work has taken him from Bosnia to occasions of need in such places as Sri Lanka, Pakistan, Lebanon and more recently in Gaza. Quoting from someone who has worked closely with John Beavis over the years, "He wears his humanity on his sleeve. He embraces all sides in conflict. He makes no enemies. People trust him, possibly because he has an extraordinary capacity to make them laugh. (I have watched him with stern, vigilant, and forbidding Hamas border guards in Gaza, and seen them convulse with laughter. I have seen him do the same with armed tribesmen in Peshawar.) Above all, he returns, keeps his promises, and is in for the long haul. Much of his work is funded by his medico-legal practice. He intends to die poor, but he will be rich in all that matters."
Chairperson of the
Hugh O'Flaherty Memorial Committee Jerry O'Grady
stated
"Again this year we had several very worthy recipients and the Award Panel found it extremely difficult to reach their decision. The Award Panel felt that the humanitarian work by John Beavis throughout the globe merited the award in the context of the principles followed by Monsignor Hugh O'Flaherty "providing refuge and assistance to the oppressed without regard for race, colour creed or political beliefs". The Award Panel believes his work is very much in keeping with Monsignor O'Flaherty's ethos that "God Has No Country".
Speaking from a hospital in Gaza, Dr Beavis said "I am overwhelmed by the decision to select me for this award and feel greatly humbled"
Like most of the events and activities during the Memorial Week, admission to this Humanitarian Award Ceremony is free of charge; places are limited and can be reserved in advance through the Killarney Chamber Office on Beech Road (064) 6637928
(064) 6637928
(064) 6637928
(064) 6637928 / e-mail [email protected]
More details on the Memorial Weekend as well as detailed information on the Monsignor's life and work can be found on www.hughoflaherty.com